The user interface of the system is presented to the agent in Hebrew or English according to the selected user interface language
An agent opens the SimpleChat Agent dashboard that displays the current status of the conversations in his care. As a result, the SimpleChat panel is added to the system and the agent is automatically configured to receive SimpleChat conversations
Note: Dynamics 365 Online with the unified interface anchors the panel next to the system, in previous versions the panel is floating above the screen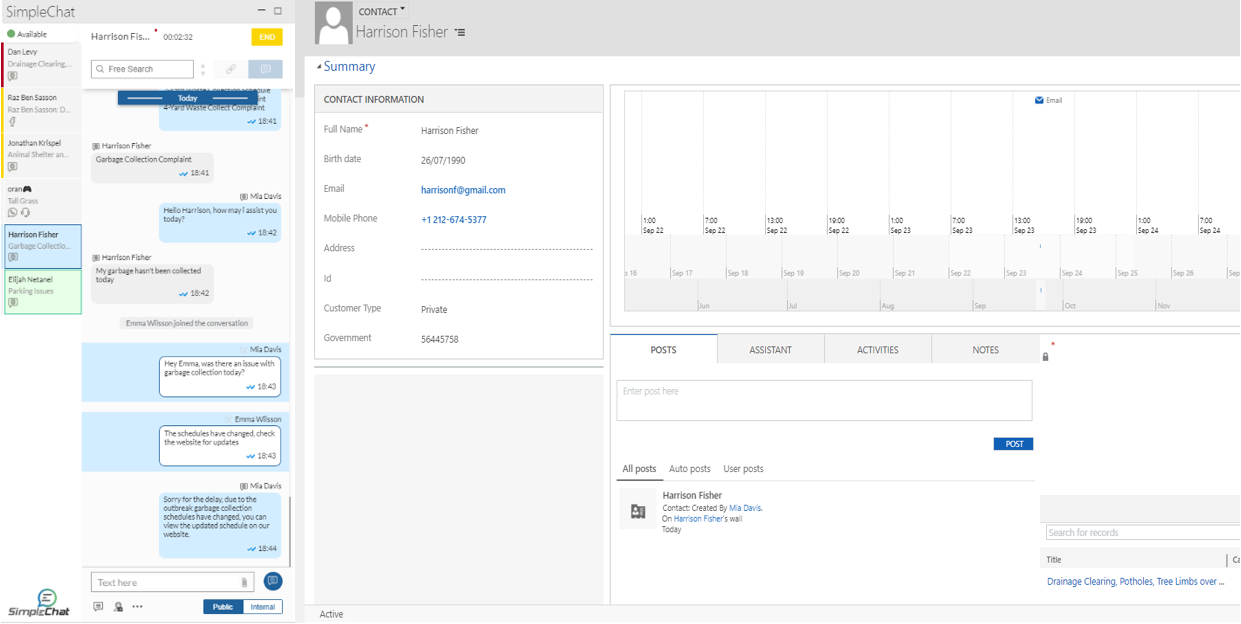 The SimpleChat panel can be resized between three modes: Full Height - in Dynamics Online using the unified interface anchored next to the system (in other versions floating above the screen), Partial Height - the window height can be resized, Minimized - the panel displays only the amount of activities according to each SLA mode: white | Yellow | Orange | Red, depending on the time left until the agent needs to respond:

At the top of the SimpleChat panel is an indication of whether the agent is currently Available, On Break, or Disconnected. Clicking on the indicator opens a menu to change the status. A manager can also force a disconnection of an agent, as detailed ahead

Note: When reaching full capacity the available status will be replaced by a busy status. In this situation, no new conversations are routed to the agent
When a new SimpleChat conversation is routed to a queue, the system will associate and assign the conversation to the "most available" agent associated with the queue to which the conversation was routed. The system determines which agent is "most available" based on the number of conversations routed to the agent, and only for agents associated with the same queue that are in Available status (rather than Busy, On Break or Disconnected)
The internal prioritization between conversations waiting to be routed to an available agent is determined by the conversation's due date.
As a result of receiving a new conversation, the conversation details are displayed to the agent as a new card in the SimpleChat panel, and a beep will sound. Each new conversation added to the panel will appear for a limited time with a greenish background color (even if returned from snoozing), and the current conversation selected by the agent will be displayed with a bluish background color
Each conversation card in the SimpleChat panel displays the customer name (or "anonymous", if the customer is not identified), the activity title (the subject of the conversation depending on the customer's replies to the bot or the message the customer typed) and an icon of the channel in which it operates. If the agent delays with the answer to the customer, a vertical bar will appear that changes color from yellow, to orange, to red. In addition, an indication of the customer's sentiment in the conversation will be displayed - positive, neutral or negative, if the user is summoned to a conversation by another agent an indication of a consultation request

will be displayed, and if the conversation returned from snoozing a bell indication

will be displayed. Other types of activities such as emails and phone calls that are routed to the agent are also displayed to him in the SimpleChat panel in the same way

Clicking on a conversation in the SimpleChat panel will display the conversation in a chat pane through which the agent communicates with the customer and sees all the messages. When selecting the conversation, the conversation form in CRM will also open, through which you can link the conversation to a regarding case and to a customer, or navigate to existing records